Working in Neighborhoods Strategically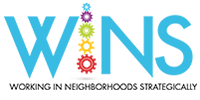 Building upon its historic legacy and spirit of resident and stakeholder-led community change, South Dallas/Fair Park is a diverse, safe, healthy and thriving community that strengthens individuals and families through opportunities to do business, live, work, learn, worship and prosper.
WINS emerged in 2013 with the support of Mayor Mike Rawlings, GrowSouth and Children's Health to focus on the health and well-being of the South Dallas/Fair Park communities. It is a formal initiative of the Alliance for Greater Works™, a nonprofit organization that brings together diverse sector leaders and organizations to identify transformative solutions in under-resourced communities. The WINS initiative is comprised of residents, business and faith leaders, community partners and concerned individuals who are focused, serious and passionate about returning the South Dallas/Fair Park area to its historic roots as a vital sector of Dallas, where families and businesses can thrive for generations. WINS functions from a residentdriven framework that establishes common goals and a shared vision for lasting change — at scale.
WINS partners have shaped an ambitious six-year plan, with phased, measurable implementation, to culminate in 2020. The targeted impact areas for zip codes 75210, 75215 and 75223 are the following:
Economic Development
Education
Health
Housing
Safety and Security
Measurable short- and long-term plans target zip codes 75210, 75215 and 75223, all located within the larger South Dallas/Fair Park area of Dallas County.
WINS is implementing a cross-sector organizational approach. Using guiding principles referred to as Collective Impact, WINS convenes multiple stakeholders, from individual residents to sectors ranging from education and health to law enforcement, real estate and economic development. Together, they are unearthing root causes of complex, entrenched problems and are fused around a common focus, shared measurements and mutually reinforcing activities — with laser-like commitment to accountability and results.
ABOUT SOUTH DALLAS/FAIR PARK
Once a vibrant, sustainable community, South Dallas/ Fair Park has experienced considerable decline in the past four decades – characterized by loss of population, declining educational achievement, increasing poverty, neighborhood destabilization and blight. Yet, it is home to Fair Park, historic neighborhoods, cultural institutions and many neighborhood associations.
Population: Approximately 30,000 (down 54% since 1970)
Size: 12 square miles
Ethnicity: Approximately 70% African American, 26% Hispanic, 4% Caucasian
Average Family Income: $39,000
Education Level: 41% high school education only
Unemployment: 16.5% (Dallas overall, 5.3%)
Crime rate: 63% (Dallas overall, 42%)
Goal: Cultivate collaborative and vibrant economy for South Dallas/Fair Park through business development and employment opportunities.
Goal: Support meaningful educational experiences and eliminate barriers for South Dallas/Fair Park families to access fulfilling life opportunities.
Goal: Partner with the South Dallas community to move toward whole health and quality lifestyles through culturally aligned approaches.
Goal: Work together to position South Dallas/Fair Park as a diverse community of choice where all families and individuals have access to quality and stable housing.
Goal: Build a safe community of close-knit neighborhoods where families and individuals thrive.
Economic Development
WINS aims to create a commercial district, sparking a new wave of development and generating an increased funding base for the existing Grand Park South TIF district. The success of this strategy could increase property values for homeowners, provide job opportunities for residents and create more vibrant neighborhoods. Specific outcome indicators are tax revenues, new businesses, TIF dollars spent on capital improvements and local business relocations to the commercial district.
Education & Schools
WINS is building a SD/FP Early Childhood Alliance. The goal is to leverage the expertise of early childhood professionals to increase awareness of the issue and its particular impact within the targeted zip codes. WINS is also creating a Family University to facilitate workshops for SD/FP parents that provide tools and resources to increase the rate of kindergarten readiness for their children.
Health
The WINS health work group is identifying and developing a network of local resources focused on reducing adverse childhood experiences (ACE). These are defined as abuse, neglect and familial dysfunction. The goal is to help families build resiliency skills that will help mitigate the lifelong impact of these adverse experiences.
Housing
The WINS housing work group is assembling resources to help residents resolve probate issues, thereby reducing the number of estate-owned properties in the targeted areas. The goals are to host probate clinics and estate planning clinics. These clinics are designed to help residents navigate probate proceedings and properly transfer titles as well as to encourage homeowners to create specific plans to transfer property and possessions. Outcomes will be measured by the number of clinic attendees, the number of new estate plans from the targeted zip codes and the number of cleared titles within a six-month window following program initiation.
Safety & Security
WINS intends to establish a Public Improvement District (PID) to add supplemental resources and services in addition to those already provided by the City of Dallas. The PID funds will apply to the 75215 zip code area for five years and will be used to address security and maintenance concerns in this neighborhood. WINS also plans to launch a fundraising campaign to supplement the PID and generate more revenue to support the community transformation. Metrics will focus on crimes rates and property values

Would you like to receive a White Paper on the WINS initiative?