Dismantling the root causes of injustices affecting marginalized communities
We envision a world where every person is empowered to be all that they were created to be, regardless of the zip code in which they happen to live.
What is a marginalized community?
Marginalized communities are populations, groups and/or geographic areas that experience discrimination and exclusion (social, political and economic) due to unequal power relationships across economic, political, social and cultural dimensions.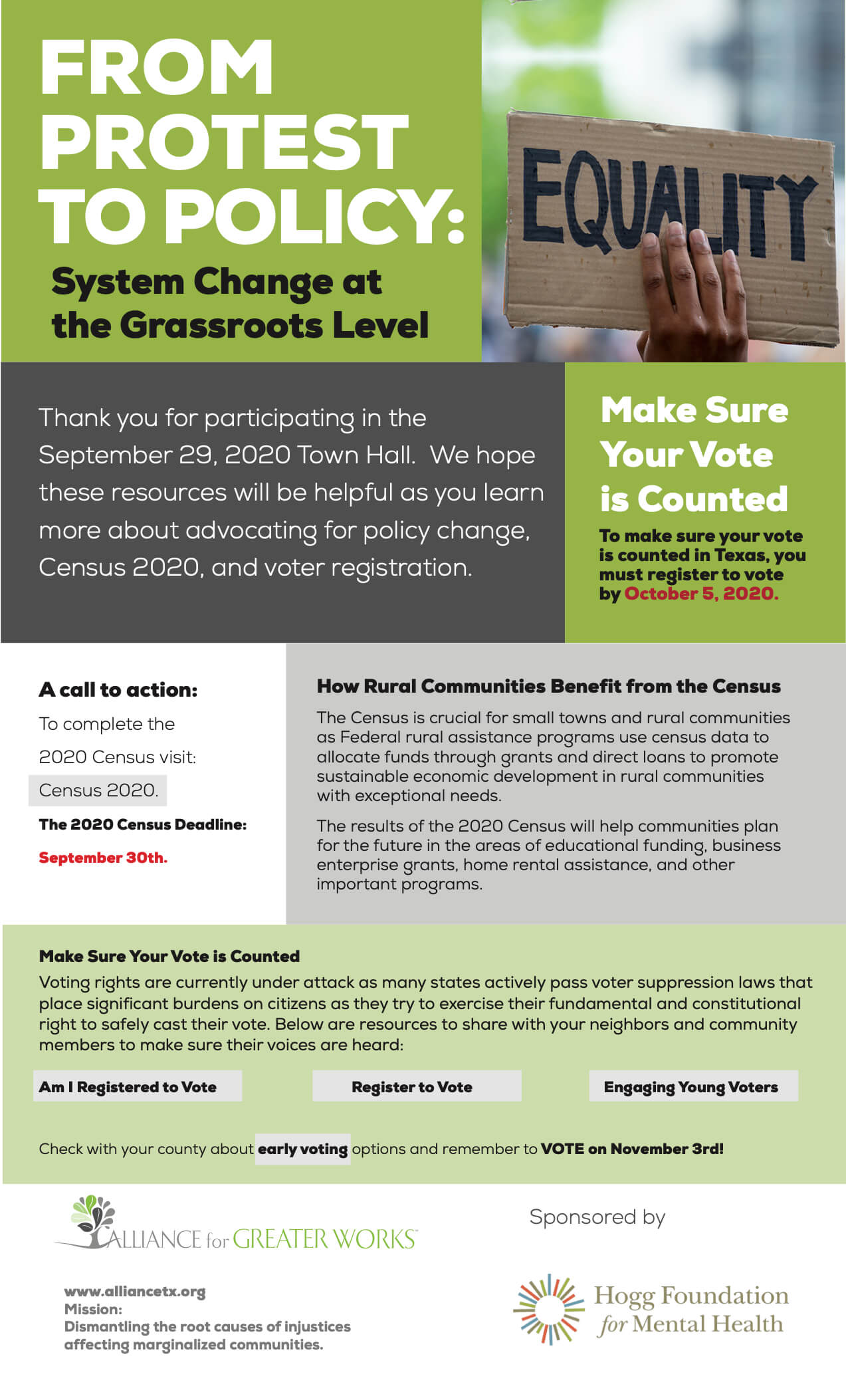 Download Toolkit
Please enter your name and address to download the toolkit.
AFRICAN AMERICAN FAITH-BASED MENTAL HEALTH
We work with communities to provide trauma-informed training for churches. Contact us if you're interested in Mental Health First Aid.
COLLABORATIVE APPROACHES TO WELL-BEING IN RURAL COMMUNITIES
Supporting collaborative learning, planning and action to transform mental health in five counties in Texas.
Healing Youth Alliance
This course will teach pastors, educators, families and young adults to recognize signs of trauma in youth and empower them to respond in ways that will begin to create a pathway for healing.
Bring this training to your church, school or in your community.
Ulitmate Financial and Legal Conference
Women's Alliance: Executive Leadership Program
This program aims to improve competencies and expand the capacity of executive women in the nonprofit sector.
By working collaboratively with funders, partner organizations, government institutions and community leaders, we tackle the root causes of economic and health disparities.
Individual Leaders and Organizations served
years of experienced
service
Collaboratives led or supported
I have been extremely pleased with Sherrye's leadership and the professionalism and efforts of her team in coordinating the African American Faith Based Mental Health Initiative. (2014-2018)

— Vicky Coffee, Hogg Foundation for Mental Health
"Sherrye Willis organized, directed, and managed the "administrative backbone" for the Working in Neighborhoods Strategically (WINS) effort from 2014-2016. Sherrye demonstrated able leadership, coupled with effective interpersonal skills and relationship-building skills. As a result, WINS did an excellent job creating a common agenda, a continuous communication program, and executing five mutually reinforcing strategies. I enjoyed partnering with Sherrye Willis to implement the WINS strategic agenda and improve the lives of the residents of Fair Park/South Dallas."
- Children's Health Systems of Texas
"Alliance for Greater Works is a solution-based organization providing quality training and consulting. From 2003-2006, Greater Works served as the Foundation for Community Empowerment's capacity building partner in the development of our successful, one of a kind, outcomes-based Building Capacity Building Communities program, made possible through a Compassion Capital Fund grant from the U.S. Department of Health and Human Services Administration for Children and Families. As part of the initiative, Alliance worked with us to train over 125 Dallas grass roots organizations in organizational development and to distribute over $1.3 million in sub-grants."
-FCE Foundation for Community Empowerment
"Dallas Christian Women's Job Corps (CWJC), a faith-based organization that offers workforce development for women in underserved areas of Dallas county, hired AGW to work with our board and staff to develop a three-year strategic plan. Responsive and encouraging, AGW consultant team has remained committed to assisting Dallas CWJC in moving to the next level in ministry offerings and capacity, committing multiple resources to the fact-gathering, visioning, strategizing and action-planning steps in the strategic planning process. AGW stands clearly committed to their mission of equipping ministries and leaders to move toward superior effectiveness in offering hope and a brighter future to low-income communities."
-Dallas Christian Women Job Corps
"Alliance for Greater Works is a valuable resource to The Urban Alternative's National Church Adopt-A-School Initiative's comprehensive training. The National Church Adopt-A-School Initiative (NCAASI) addresses the spiritual and social needs of urban youth and families through a church and public school partnership, based on the Dallas, TX Project Turn Around (PTA) model at Oak Cliff Bible Fellowship. Alliance for Greater Works has worked closely with The Urban Alternative to provide an additional pair of hands to our staff in program design, implementation, and technical support to churches, ministries, and faith-based organizations throughout the United States."
-Dr. Tony Evans, The Urban Alternative
ARE YOU PASSIONATE ABOUT BRINGING EQUITY TO ALL?
Sign up for emails to stay connected with our work.