Ultimate Financial & Legal Conference
The ​2017 ​Ultimate ​Financial ​and ​Legal ​Conference™ ​is ​a ​unique ​program ​designed ​to ​encourage ​church ​and ​ministry ​leaders ​to ​transform ​their ​organizations ​internally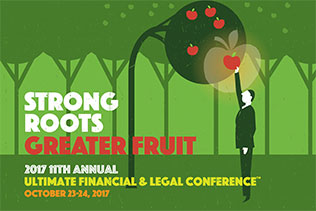 Date: October 23-24, 2017
DFW Marriott South
4151 Centreport Blvd
Fort Worth, Texas 76155
United States

REGISTRATION FEES:
INDIVIDUALS: 
     $275 individual (by 8-31-17);
     $325 (after 9-01-17)
TEAMS - Two or more:
     $250 per person (by 8-31-17);
     $300 per person (after 9-1-17)
NEW:   $35 per person if you prefer hard copy handouts; Digital copy free
MYSTERY DINNER:
$45 for Monday Night Mystery Dinner
This ​two-day conference targets church, ministry and nonprofits and ​provides financial, legal, human resources, and risk management solutions ​to the ​current ​issues ​facing ​​religious institutions and nonprofit organizations. Register today!
Contact Rebecca Ross, admin@allianceforgreaterworks.org or 817.835.0271 for more information
Are you ready to

catalyze positive change?
Find out how we can help you strengthen communities in your area: